I usually try to focus on one area of my house on my days off and get caught up on cleaning. Most often it's laundry or cleaning out my pantry to get my food cooked for the next week. However, inspired by a friend, I decided it was time to clean out my books.
I LOVE books- I am an avid reader. I try to use the library as much as possible but I still have a fairly impressive collection of paperback books I don't read. Now there is a way on-line to swap out your paper back books with readers all over the country. It's called PaperBackSwap.com.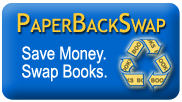 Here's the short version of how it works. You clean out your closets and bookshelves and select 10 paper back books that you can live without. After you register for the site, you list those 10 books as books you are willing to ship to other people. After you list 10 books, you can select two books for people to send to you.
If someone requests a book, you take it to the post office and send it media mail (it generally costs about $2.50) to that person. Media mail is specifically designed to be discounted for books, so be sure to tell the postal employee that it is a book. In return you can select books you would like to read and people will send them to you for free!
Here's the great part: once a book is sent to you, you own it. You can keep it as long as you want- no worrying about late fees at the library! If you finish it and like it, keep it. If you don't, put it back on the web site and hopefully someone else will enjoy it! The web site will also make suggestions about books you would enjoy based on your previous suggestions.
If you are an avid reader this is a MUST USE site!